ABOVE: Magazine ad, ca. 1984.
Is everyone else asking too much? Or are we asking too little?
At Subaru, we truly believe in giving you the most car for the least amount of money.
-- --
The Subaru version of more car.
-- --
Some automakers talk about leg and shoulder room. Some talk about rack and pinion steering or front wheel drive. Others talk about durability and reliability. Yet all that and more can be had in a Subaru Hatchback for a mere $4,989 [1984]
And that's just the beginning.
-- --
We've proven that advanced cars don't have to be expensive cars.
-- --
Standard on every Subaru is front wheel drive for improved road holding. And only Subaru has a full line of vehicles that can go from front to "On Demand" Four-Wheel Drive. We also offer Turbo Traction a combination of fuel injected turbo charging, "On Demand" Four Wheel Drive and automatic transmission. Both are innovations we pioneered.
At Subaru, being a pioneer in technology means we've discovered new ways to give you more for your money.
-- --
You save a lot when you buy a Subaru. And a lot more when you drive it.
-- --
Every Subaru - (Our practical Hatchback family size Wagon Two-Door Hatchback, sporty tow-door hard-top, open back Brat, even our luxury Four Door Sedan) is designed to meet the demands of the economy as well as it meets the demands of the road. The engineering that goes into a Subaru, and the high mileage** you get out of one, make it inexpensive to own. And drive.
What's more, many dealers also offer Subaru Added Security. It's the only extended service con tract backed directly by Subaru. So think about it. Is Subaru offering too much for the money? Or is everyone else offering too little?
SUBARU===Inexpensive. And built to stay that way.
---
Pictures (varoius models and years):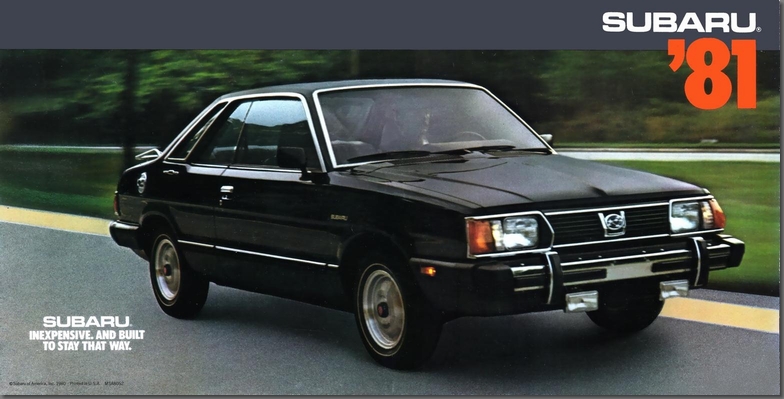 above: 1981 Sedan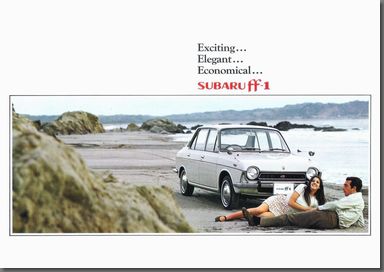 above: 1970 ff-1
---
Links: